"The Cut" is a weekly reporters notebook-type essay by an Ideastream Public Media content creator, reflecting on the news and on life in Northeast Ohio. What exactly does "The Cut" mean? It's a throwback to the old days of using a razor blade to cut analog tape. In radio lingo, we refer to sound bites as "cuts." So think of these behind-the-scene essays as "cuts" from Ideastream's producers.
I'm ready to graduate from college, shaped by my Ideastream internship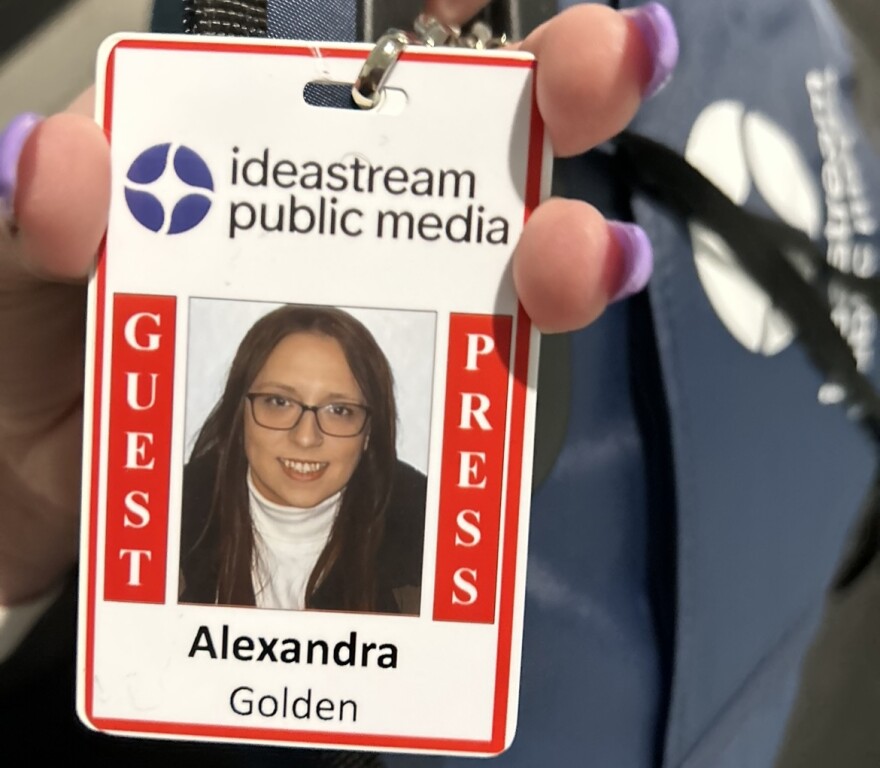 As I am wrapping up my last semester of college and my internship with Ideastream Public Media, I find myself in a time of reflection.
When I started this internship, I did not realize how impactful it would be on my career. As a senior at Kent State University who has done student media for the last two years, I wanted to branch out of my comfort zone. Ideastream was the place for me to do so.
Prior to this internship, I primarily worked with written stories for print and online publication. The concept of editing audio and writing "cut and copies" (I learned that's the name for a sound clip with some writing for the host to read on air) were not foreign to me, but were not second nature either.
The first assignment I had at Ideastream was to turn a segment from the "Sound of Ideas," the daily public affairs talk show on WKSU, into a web story. This was new to me. I had never listened to an interview in a talk show and distilled the facts into a written story. And I'd never done a story for the web where I wasn't the one conducting the interview. This was something I became more comfortable doing throughout my time. It's a skill I did not know I would one day need.
I got to work with some pretty amazing people. Anna Huntsman and Abigail Bottar, two of the reporters, and Andrew Meyer, the deputy editor for news, provided mentorship that won't go unacknowledged. They all challenged me to be a better journalist. Their edits, comments and dedication made me a better journalist in the short span of four months.
My fellow interns Grace Springer, Jenna Bal and Kennedy Gotham had a similar experience. They made the office feel like a second home and were always there to listen to my questions or help me if I was stuck.
I also got to do a two-week rotation with the "Sound of Ideas." It was a full-circle moment from my first assignment involving a segment of that show to actually working with the team that puts the show together.
Rachel Rood, Drew Maziasz, Leigh Barr and Rick Jackson were the most welcoming. I got to work and watch during Pledge Week and see a different side of producing that was not the norm. I heard different employees talk about Ideastream's mission and their personal encounters and experiences with the company. Everyone that I encountered or worked with for those two weeks left an impression and impact on me that I took back to Kent.
During my time with SOI (that's what everyone here calls it), I got to help write questions for the host to ask guests and to help with the production of the show. This is an experience that I do not think I could have gotten anywhere else. It also showed me that plans can change and you have to adapt quickly. On one of my last days working with SOI, the guest for the show was booked, then canceled, then confirmed again all while I tried to write the script and questions.
But back to Kent and the reporting side of things: I had the opportunity to meet and see so many impactful people. While going with Abigail to help with her coverage of the groundbreaking of Lock 3 Park in Akron, I met Congresswoman Emilia Strong Sykes. Abigail introduced me to her, and Sykes took the time to ask about my personal and professional life. This is not something I have experienced before from someone in government.
I also had the opportunity to work on the second Akron mayoral debate and to see a live debate for the first time. I worked with Grace making sure citizens who would ask questions were properly situated and ready. It was such an experience. My town never had mayoral debates, so this was new to me, but something I would like to attend again, whether I am working or just an interested citizen.
I also got to cover a variety of important stories. I wrote about carbon monoxide detectors, open space grants, the Innerbelt in Akron, stolen cars and much more. I never knew what was going to be thrown my way when I walked into the office, which is one of the really cool parts of being a reporter.
This sounds cliché, but I am truly grateful for my time with Ideastream and I am sad to see it end. I got to work with a company that has the same values I do and treated me with nothing but respect. I have never felt so accepted or equal to people in a workplace setting like I did at Ideastream.
One last time: Reporting for Ideastream Public Media, I'm Alexandra Golden.
"The Cut" is featured in Ideastream Public Media's weekly newsletter, The Frequency Week in Review. To get The Frequency Week in Review, The Daily Frequency or any of our newsletters, sign up on Ideastream's newsletter subscription page.