To contact us with news tips, story ideas or other related information, e-mail newsstaff@ideastream.org.
Northeast Ohio Libraries Close, Cancel Programs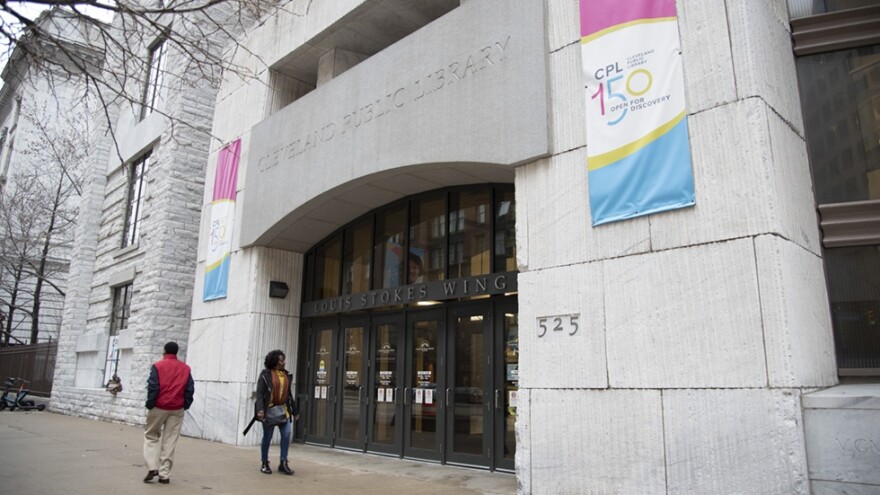 Updated: 8:40 a.m. Sunday, March 15, 2020
Libraries across Northeast Ohio have closed, suspended programs or are taking new precautious against the spread of coronavirus.
Cleveland Public Library will close at the end of the day Friday and halt all programming until further notice, the library announced in a news release.
The library will still provide brown bag lunches to kids on weekdays between 3:30 and 4:30 p.m., and branches that are also polling places will remain open for voters on Election Day.
The Main Library, Louis Stokes Wing and neighborhood branches will be deep cleaned and sanitized during the closure, the news release said.
"This was a difficult decision for the staff at Cleveland Public Library," CEO Felton Thomas, Jr. said in the release. "We know how much our community depends on us. We hope our closure will keep our employees and patrons safe and healthy and reduce exposure to this disease."
Patrons who have checked out books or other materials should keep them for the time being, Thomas said. Digital resources, such as e-books and streaming services, are still available.
The Shaker Library and Heights Libraries closed Friday until further notice. The Lee Road and University Heights branches will be open for primary election voters.
Cuyahoga County Public Library will close the doors of its branches from March 14 until April 5. The library system will offer drive-up service and telephone reference at 11 branches during the closure. Details are available here. The library will also waive late fees.
As with the Cleveland library system, county library branches will remain open as polling places March 17.
Lakewood Public Library will remain open for now, according to a notice dated March 13 on the library's website.
"We encourage any concerned patrons, especially those who are elderly or at higher risk of contracting this virus, to avoid visiting our library locations if they are feeling ill or concerned about potential exposure," the notice read.
Lakewood library maintenance staff have cleaned doorknobs, computer monitors, keyboards and mice. Disinfecting wipes will be available for patrons to clean off computers at service desks.
The Akron-Summit County Public Library will close as of Tuesday, March 17 at 8 p.m. through April 6, according to a tweet shared on the library's account.
COVID-19 UPDATE: The Akron-Summit County Public Library system will be closed from Wednesday, March 18 until at least Monday, April 6. This will be subject to change as information about the virus continues to develop.

— Akron-Summit County Public Library (@akronlibrary) March 14, 2020
It has already suspended all programs, events and meeting room reservations until March 31, according to the library's website.
The library will still operate as a polling site for Tuesday's election.
"We continue to follow best hygiene practices for workplaces – including regularly cleaning and disinfecting surfaces in our buildings, making hand sanitizer available to staff and customers, and encouraging frequent hand-washing," a notice on the Akron-Summit County Public Library's website read.
Libraries are exempted from Gov. Mike DeWine's ban on mass gatherings.