Frontier Airlines launches direct flight between Cleveland and Puerto Rico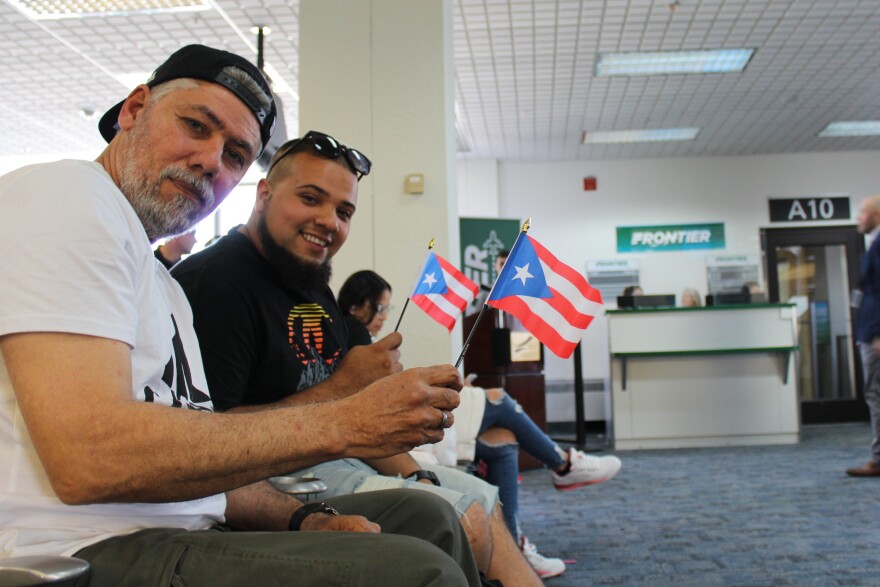 Clevelanders Brian and Louis Roman travel to San Juan, Puerto Rico, every year to visit family.
It's usually a headache for the father and son: a more than fourteen hour travel day sometimes includes long layovers and lost baggage.
But the journey just became easier for the pair, as well as hundreds of other Northeast Ohio Puerto Ricans and tourists, thanks to a new direct flight between Cleveland and San Juan offered by Frontier Airlines.
"I think it's phenomenal," Brian Roman said at the gate of the inaugural flight at Cleveland Hopkins International Airport on Thursday evening. "It shortens down the travel experience. I think it's a great way for people to take a direct flight. Just overall convenient."
Councilmember Jasmin Santana, whose Ward 14 is 42% Hispanic, was among the dozens of passengers eager to board the plane Thursday. She's excited about the opportunity it offers her constituents, as well as her own family.
"My mom is 76 years old, so for her to wait at the airport in a wheelchair for that long made it also impossible for us to travel to Puerto Rico frequently, so this is huge," Santana said.
The budget airline has invested big at Cleveland Hopkins recently with more to come: new direct flights in coming months include domestic destinations like Dallas, San Francisco and San Diego at a cheaper price for passengers.
"A lot of people thought this airport wasn't going to have a future when it was dehubbed by United Airlines, but what happened was airlines like Frontier came in and not just filled the gap, but we have more people flying out of Hopkins today than we did during the hub era," said council's Vice Chair of the Transportation and Mobility Committee Charles Slife.
Another direct overseas flight will launch later this month, as AerLingus plans to bring Clevelanders to Dublin, Ireland.
Meanwhile, the airport is in the early stages of a $2 billion, 20-year overhaul, which includes plans to bring an on-site car rental facility, a larger terminal and new concourses.
After nine months without a permanent leader, Mayor Justin Bibb has tapped Bryant L. Francis to take the reins as the new Director of Port Control. He will start later this month and will steer the city's airports through the master planning process.