Arts Study Highlights Better Ways To Serve Audiences With Disabilities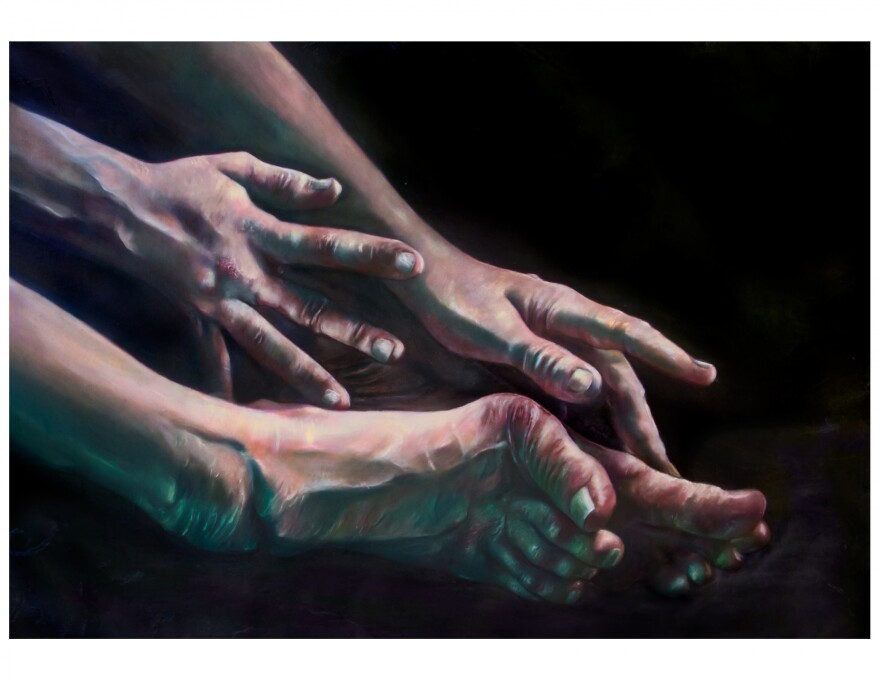 People with disabilities don't necessarily feel included in the local arts scene, according to a report issued this month by Arts Cleveland , "Open Caption: Rethinking Accessibility in Cleveland's Arts and Culture." The findings highlight various ways the arts and culture community could better serve people with mobility, hearing, cognitive and other challenges.
Arts Cleveland Community Relations Manager Meg Matko said they used a broad definition of "disability."
"It's really any kind of limitation, be it physical, mental, cognitive, emotional, that sort of inhibits a person from partaking in the regular activities of everyday life," Matko said.
She added that there are approximately 63,000 individuals with disabilities in the city of Cleveland and almost 135,000 in Cuyahoga County overall.
Moco Steinman-Arendsee of the arts collective MANDEM poses at a "Rooms To Let" project in Slavic Village. [MANDEM]
For people with mobility issues, there can be considerable planning time in arranging for special transportation to an art venue or event. And outdoor events can have a variety of accessibility issues, Matko said.
But aside from physical barriers, sometimes the problem can be as simple as poor communications, she said, noting it can be difficult to find accessibility information from the provider.
Arts Cleveland Acting Managing Director Valerie Schumacher added that it's expensive to be living with a disability.
"Particularly if you're thinking about traveling with an assistant or some individuals with service animals," she said. "And having to pay for an extra ticket for your assistant so that you can go and see a show.
Although the pandemic has created obstacles, Meg Matko said that it has actually helped some people with disabilities who can now attend virtual events as easily as most anyone else. Also, technology makes it easier to add captions for the hearing impaired or audio descriptions for the blind.
And while the impact of COVID-19 on the bottom lines of many arts organizations has been brutal, Schumacher said making accommodations for the disabled isn't always expensive.
"There are things you can do that don't cost a lot of money that will actually be helpful," she said. "You know, we're not talking about necessarily the infrastructure, although that's definitely a need. We're talking about some much more simple ways to increase accessibility that don't cost a ton of money and are actually widening the people who are able to access the work that people are doing."
An organization could make accessibility information easy to find on a website, for instance, or consult people with disabilities in planning.
The report praises the Cleveland Play House for adding captions to its performances. [Laura Gold]
The "Open Caption" study notes that area arts organizations are already doing a lot of good work in making their events and facilities more accessible, but Meg Matko suggests it's time to start planning for some fundamental changes that are likely ahead.
"We're at a point of flux right now, for what arts and culture is going to look like in the future," she said. "And I almost feel as though this report is coming at a great time for that kind of systems-level shift that we are going to see, I think, with how we experience the arts and what arts and cultural organizations and events institutions look like moving forward."
Matko said the thing that struck her most about the study was learning how many people with disabilities don't feel they are being recognized in the current national reckoning on cultural inclusion.
"There's often this feeling of being sort of 'othered,'" she said, noting there's a perception by some in the disability community that the conversation about accessibility is separate from the conversation about diversity, equity and inclusion.
"There's a real desire for that part of the community to feel included in those conversations," she said.
This poster illustrating best practices for arts organizations was created by wheelchair-bound Cleveland cartoonist "John G." [Arts Cleveland]