U.N. Says Nearly 1,000 Iraqis Were Killed In September
Posted: October 1, 2013
Sectarian violence has climbed to levels not seen since 2008. The death toll this year has already exceeded that of 2012.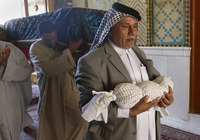 Mahmoud Abdel Rahman carries the dead body of his eleven-month old grandson, Latif, who was killed along with his mother on Monday when their house collapsed in a car bomb attack, while mourners carry the coffin of the mother, Hasnah Abdel Rasul, during their funeral in the Shiite holy city of Najaf, on Tuesday. Jaber al-Helo
The United Nations mission in Iraq has some grim news today: 979 Iraqis were killed in attacks during the month of September.
That means that 5,740 Iraqis have been killed this year, exceeding the total killed in 2012.
"Sectarian bloodshed has surged to levels not seen in Iraq since 2008. More than 5,000 people have been killed since April, when a deadly government raid on a Sunni protest camp unleashed a new round of violence that showed al-Qaida in Iraq is still strong despite years of U.S.-Iraqi offensives against the terror group. ...

"While violence has never stopped in Iraq, the recent uptick in double-digit daily death tolls has stunned many Iraqis after several years of relative calm. It also has raised fears that long-dormant Shiite militias could renew their campaign of retaliatory violence.

"'If the security forces are not capable of protecting us, we will protect ourselves and end the misery,' said Hatem Muhsin, who lives in Sadr City, a Shiite enclave in Baghdad. 'The sectarian war has just started.'"
If you've paid marginal attention, you might remember stories about an assault on a funeral, or a wave of car bombs, or the bombing of a Sunni mosque.
But, the picture at the top of this post really tells the story of human suffering.
It was taken today by AP photographer Jaber al-Helo and shows Mahmoud Abdel Rahman carrying the lifeless body of his eleven-month-old grandson.
He was killed along with his mother, when a car bomb exploded and caused their house to collapse.
Copyright 2015 NPR. To see more, visit http://www.npr.org/.
Tags
The Two-Way
Leave a Comment
Please follow our community discussion rules when composing your comments.