Book News: Amazon Fires German Security Firm After Claims Of Intimidation
Posted: February 18, 2013
Also: the best books coming out this week; the return of Haruki Murakami; and Ian McEwan's crisis of faith.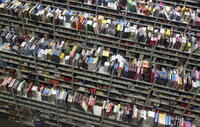 Books in an Amazon warehouse in Bad Hersfeld, Germany. Jens-Ulrich Koch
The daily lowdown on books, publishing, and the occasional author behaving badly.
The Best Books Coming Out This Week:
In the memoir After Visiting Friends, author Michael Hainey searches for the truth about his father's death.
Nothing Gold Can Stay by Ron Rash is a collections of short stories set in Appalachia, NPR's Scott Simon calls it "pointed, fierce, funny and tightly packed."
Copyright 2015 NPR. To see more, visit http://www.npr.org/.
Tags
The Two-Way
Leave a Comment
Please follow our community discussion rules when composing your comments.