Andrew Michael, who had been waiting for hours, takes a nap as he waits for a train at 30th Street Station in Philadelphia in May 2006. Thousands of Amtrak passengers were stranded from Washington, D.C., to New York during a power outage along the Eastern corridor.
A boy hitches a ride on a suitcase as he waits to board a train at Beijing West Railway Station during the peak of travel for the Chunyun Spring Festival, in February 2007.
Two holidaymakers amuse themselves with a porter's trolley as they wait for their train at Euston Station in London in August 1939.
Chinese passengers line up to buy train tickets as the summer holiday starts in Hefei, in eastern China's Anhui province, in June 2012. China's railways transported some 453 million passengers during the first quarter of 2012.
Passengers wait for their train in Rome's Termini Station, in April 2011, during a transport strike that idled trains, buses and subways across Italy.
Indian passengers wait on the platform of Sealdah train station for the resumption of services during a power failure in Kolkata in July 2012.
A woman stands on a station platform, watching for her train.
A sailor reads with his child as he waits for a holiday train at Waterloo station in London in 1927.
A man and his child check out photos they took while waiting to board trains at the south train station in Beijing, in February 2010.
Three French children wait on a railway platform with their toys and luggage in September 1962.
Nuns wait together on a platform at Euston station in London.
A party of holidaymakers waits for a train at Waterloo station in London, in July 1913.
A Chinese boy wearing a People's Liberation Army uniform sits on his family's belongings while waiting for a train at the crowded Beijing railway station in December 1992.
Jose, Oscar and Eduardo Aguilar, sons of a Venezuelan official, leave Waterloo station in London for home, wearing Eton suits and toppers in May 1936.
An Indian girl sits on her family's luggage as she waits for a train at a railway station in New Delhi, India, in January 2013.
Lunar New Year travelers wait for their train at the West Railway Station in Beijing on Jan. 31, 2013. Tens of millions of people across China board trains to journey home for Lunar New Year celebrations in the world's largest annual migration.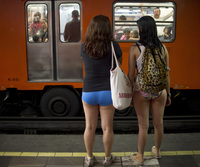 Two young women wait for the train at a subway station in Mexico City during the worldwide "No Pants Subway Ride" on Jan. 13, 2013.
A boy hitches a ride on a suitcase as he waits to board a train at Beijing West Railway Station during Chunyun travel peak on Feb. 8, 2007.
Grand Central Terminal, one of world's most iconic commuter destinations (or departure points, depending on which way you're going), celebrated a big birthday this week. Friday marked the 100th anniversary of the opening of the largest railroad terminal in the world.
Grand Central's main concourse is often shown in time-lapse videos — a space teeming with humans sprinting with their briefcases or rushing by with children in tow. More than 750,000 people pass through the New York City station each day, most of them hurrying through the cavernous space.
But anyone who spends a lot of time on trains also spends a lot of time waiting for them. (That's a lesson I learned from my dad, who has commuted daily between Baltimore and Washington for longer than I've been alive. As a kid, I thought he was a train conductor because we dropped him off "for work" at the train station every morning, and then picked him up there every night.) In honor of Grand Central's centennial, we looked back through the years and around the world to find images that capture the time we spend in stations, waiting for trains.
The energy in a train station is an odd combination of adrenaline and boredom; anticipation for the destination tempered by impatience at how long it's taking to get there. Turns out, the way we wait for trains looks awfully similar across the decades and around the globe. We cup our chins in the palms of our hands as we sit atop our suitcases; we rest our heads on our travel companions, trying to get comfortable; we lose ourselves in our reading, whether on 1920s newsprint or 21st-century screens; we frolic on the luggage carts.
The train station is never the destination, but at Grand Central it's easy to forget that. "It's like a cathedral that's built for the people," Grand Central tour guide David Brucker told NPR's Jeff Lunden. "We're not going through somebody else's mansion, through somebody else's monument. It's ours."
Editor's Note: This post was written aboard northbound MARC train No. 446.
Copyright 2018 NPR. To see more, visit http://www.npr.org/.